Welcome! I'm Adriane, the person behind the Sweetener Calculator. A chemical engineer, food technologist, mother & wife, I was born & raised in Brazil and have lived in the United States since 1996. 
In April 2019, I launched the WhatSugar™ website to answer one question: "What's the best sweetener?" I quickly realized that my readers' biggest frustration was converting one sweetener to another. Time and time again, I'm asked, "How much sweetener to use instead of sugar? How to substitute this brand for another? Can I replace this product in my recipe?" 
In an effort to begin answering these questions, I embarked on a thorough process of going down the sweetener rabbit hole. I gathered information from different sweetener websites. I deconstructed the front and back of sweetener packages (ingredients, nutrition facts, label claims). I contacted manufacturers and sellers to find all the details about their products.
Based on this exhaustive research, I created a series of tools. The first one was the Sweetener Calculator™, and subsequently the Sweetener Comparer™ and the Sugar Swap Tool™. 
My mission is pretty simple—to help you find substitutes for sugar so that you can eat healthier, have less sugar, or no sugar at all. 
I provide smart kitchen tools and practical resources about sugar alternatives.
WHAT THIS WEBSITE IS ALL ABOUT
The Sweetener Calculator is a website dedicated to helping home cooks swap sugar in drinks and recipes. So whether you're sweetening coffee, baking a cookie, or making your favorite cake, we've got a ton of resources to help you with your substitutions. 
And if this is your first time venturing into the sugar alternative world, we know it can be just a little overwhelming. Our goal is to make this site as user-friendly as possible so that you can navigate the sweetener aisle and make sense of the varieties & brands. You'll find ALL. THE. DETAILS. about 1000s of sugar alternatives sold in stores across the United States.
Here's a breakdown of what you'll find on the site:
WHAT IS OUT IN STORES IN 2023
You can now compare apples to apples and make informed purchase decisions when shopping for sugar alternatives.
We created a series of guides showcasing sugars, syrups & sweeteners available across the country.
Keep up to date with the latest products & brands to hit the stores. Enjoy having them conveniently sorted out, as I spend hundreds of hours researching them, so you don't have to!
CONVERT SUGARS & SWEETENERS
We've all been there: You're ready to bake with a healthier sweetener, but when it's time to measure it, how much should you use? 
Sweeteners tend to taste and behave differently, so finding the right measurements can be tricky.
Wondering "How do I replace one sweetener for another? What's the ratio? How do I sub sugar?
The Sweetener Calculator™ helps you convert sugar, syrups & sweeteners. The best part is that you can compare products side-by-side.
BREAK DOWN THE DIFFERENCES
If you're thinking, What sweeteners are low glycemic? 
What sugar alternative does not spike insulin? 
Which sweeteners can kick me out of ketosis?
Is it keto? Diabetic-friendly? Vegan?
What's the glycemic index?
Net carbs, total sugar & calories?
The Sweetener Comparer™ is for you.
TIPS TO CONVERT SWEETENERS
We believe that substitute sugar shouldn't have to be complicated. Instead, we're all about giving you simple, practical tips so that you can eat healthier, lose or maintain weight, or manage diabetes. You can find all our blog posts divided into three categories: 
1. SWAP ONE SUGAR FOR ANOTHER
If you want to substitute table sugar for another sugar, such as coconut sugar, honey or maple syrup, read those tips.
If you want to reduce some of the sugar & calories in your recipe, but don't need a sugar-free option, read those tips.
If you want to substitute all the sugar in your recipe, or you are looking for tips on how to use sugar-free sweeteners, go here.
FAIR TRADE, ORGANIC, NON-GMO
If environment and social responsible certifications are important to you, my Sugar Swap Tool comes in handy.
You can easily find sweeteners that are certified organic, fair trade, and non-GMO (genetically modified organism).
Is sugar non-GMO?
Which sweetener is organic?
What brands are fair trade? 
Find your answers in the Sugar Swap Tool™.
Confused and overwhelmed by all the sweeteners in stores?
---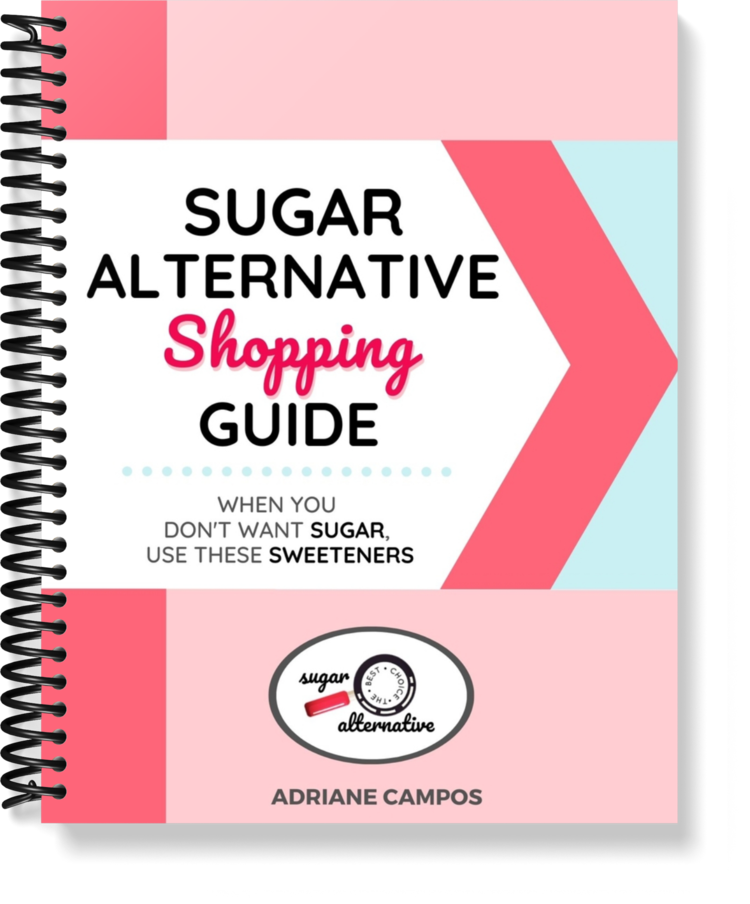 With 1000s of products sold in stores, our Sugar Alternative Shopping Guide will help you make sense of ALL the different options. It's a goldmine—get it free for a limited time!